Bill Nighy
(1949/12/02 - Unknown)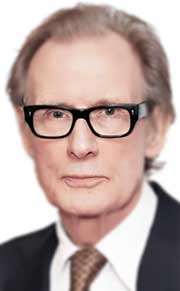 Actor británico
Popular, entre otras, por su interpretación de Viktor en la franquicia Underworld.
Películas: Love Actually, The Best Exotic Marigold Hotel...
Padres: Catherine Josephine Whittaker y Alfred Martin Nighy
Cónyuge: Beth Morris
Hijos: Mary Nighy
Nombre: William Francis Nighy
Altura: 1,85 m
Bill Nighy
nació el 2 de diciembre de 1949 en
Caterham
, Reino Unido.
Familia
Hijo de Catherine Josephine Whittake, enfermera psiquiátrica de ascendencia irlandesa nacida en Glasgow, Escocia, y del inglés Alfred Martin Nighy, propietario de un negocio familiar de limpieza de chimeneas. Hermano menor de Martin y Anna.
Estudios
Cursó estudios en la John Fisher School, donde fue miembro del grupo de teatro. Posteriormente ingresó en la Guildford School of Acting.
Actor
Comenzó su carrera actoral en el Everyman Theatre de Liverpool.
En 1977, debutó en el Royal National Theatre de Londres con la obra
The Illuminatus
. Fue aclamado por sus interpretaciones en
Pravda
(1985),
Betrayal
(1991),
Arcadia
(1993) y
La gaviota
(1994). Recibió un Premio Laurence Olivier al Mejor Actor por su actuación en
Blue/Orange
en 2001.
Apareció por primera vez en Broadway con
Hare'sThe Vertical Hour
en 2006, y en 2015 ganó una nominación al Premio Tony al Mejor Actor por el reestreno de
Hare's Skylight
.
Películas
Entre sus créditos cinematográficos destacan:
Still Crazy
(1998),
Blow Dry
(1999),
Love Actually
(2003), por la que obtuvo un BAFTA al Mejor Actor de Reparto,
Dead
(2004),
The Hitchhiker's Guide to the Galaxy
(2005),
The Constant Gardener
(2005),
Notes on a Scandal
(2006),
Hot Fuzz
(2007) y
Valkyrie
(2008).
Ganó popularidad como Davy Jones en la serie de películas
Piratas del Caribe
(2006-2007) y como
Viktor
en la franquicia
Underworld
(2003-2009).
Formó parte del elenco, entre otras, de
Harry Potter y las reliquias de la muerte - Parte 1
(2010),
El exótico hotel Marigold
(2012),
About Time
(2013) o
Emma
(2020).
Living
Protagonizó el drama británico
Living
, estrenado el Festival de Cine de Sundance el 21 de enero de 2022. Por su interpretación de Rodney Williams, un funcionario del Consejo del Condado de Londres después la Segunda Guerra Mundial, que tras ser diagnosticado de un cáncer terminal, intenta llevar a cabo un proyecto para construir un parque infantil en medio de las ruinas de un barrio bombardeado, recibió una nominación al Premio de la Academia al Mejor Actor en 2023.
Televisión
Aclamado por sus papeles en televisión, ganó un Premio de Televisión de la Academia Británica al Mejor Actor por su actuación en la serie
State of Play
de BBC One (2003) y un Globo de Oro al Mejor Actor por la película de la BBC
Gideon's Daughter
(2007). También es conocido por sus papeles en
The Girl in the Café
(2006) de HBO y
Page Eigh
t (2012) de PBS.
Resumen
Actor británico reconocido por su trabajo en la pantalla y el escenario. A menudo, interpreta personajes excéntricos y divertidos, aunque también ha demostrado gran capacidad para a cabo papeles dramáticos. Una de sus actuaciones más destacadas fue en la película Love Actually de 2003, donde interpretó a un envejecido rockero británico que lucha por recuperar el amor de su vida. Galardonado con numerosos premios, entre ellos, dos premios BAFTA, un Globo de Oro y nominaciones para un premio de la Academia y un premio Tony.
Filmografía
Cine
1979 The Bitch
1980 Death Watch
1980 Little Lord Fauntleroy
1981 Eye of the Needle
1983 Curse of the Pink Panther
1984 The Little Drummer Girl
1985 Hitler's SS: Portrait in Evil
1985 Thirteen at Dinner
1989 The Phantom of the Opera
1989 Mack the Knife
1994 Being Human
1996 True Blue
1996 Indian Summer
1997 FairyTale: A True Story
1998 Still Crazy
1999 Guest House Paradiso
2001 Blow DryRaymond
2001 Lawless Heart
2001 Lucky Break
2002 AKAUncle
2003 Ready When You Are, Mr. McGill
2003 Love Actually
2003 I Capture the Castle
2003 Underworld
2004 Shaun of the Dead
2004 Enduring Love
2005 The Magic Roundabout / Voz
2005 The Hitchhiker's Guide to the Galaxy
2005 The Constant Gardener
2006 Pirates of the Caribbean: Dead Man's Chest
2006 Underworld: Evolution
2006 Stormbreaker
2006 Flushed Away / Voz
2006 Notes on a Scandal
2007 Hot Fuzz
2007 Pirates of the Caribbean: At World's End
2008 Valkyrie
2008 A Fox's Tale
2009 Underworld: Rise of the Lycans
2009 The Boat That Rocked
2009 G-Force
2009 Astro Boy / Voz
2009 Glorious 39
2010 Wild Target
2010 Harry Potter and the Deathly Hallows – Part 1
2011 Rango / Voz
2011 Chalet Girl
2011 Arthur Christmas / Voz
2011 The Man with the Stolen Heart / Voz
2012 The Best Exotic Marigold Hotel
2012 Wrath of the Titans
2012 Total Recall
2013 Great White Shark 3D / Voz
2013 Jack the Giant Slayer / Voz
2013 The World's EndThe Network / Voz
2013 About Time
2014 I, Frankenstein
2014 Pride
2015 The Second Best Exotic Marigold Hotel
2016 Dad's Army
2016 Norm of the North / Voz
2016 Their Finest
2016 The Limehouse Golem
2017 The Bookshop
2017 Pirates of the Caribbean: Dead Men Tell No Tales
2018 Sometimes Always Never
2019 The Kindness of Strangers
2019 Detective Pikachu / Voz
2019 Hope Gap
2019 StarDog and TurboCat / Voz
2020 Emma
2020 Minamata
2021 Buckley's Chance
2022 Living
2023 Role Play

Televisión
1976 Softly, Softly: Taskforce
1978–1982 Play for Today
1979 PremierDeasey
1980 Agony
1980 Colin Street
1980 Playhouse
1982 MinderOates
1982 Play for Tomorrow
1983 Reilly, Ace of Spies
1983 Jemima Shore Investigates
1984 Crown Court
1985 The Last Place on Earth
1989 Storyboard
1990 Making News
1990 ScreenPlay
1990 Brill
1991 The Men's Room
1991 Bergerac
1991 Boon
1991–1993 Performance
1992 Chiller
1992 A Masculine Ending
1993 Eye of the Storm
1993 Peak Practice
1993 Don't Leave Me / Telefilm
1993 The Maitlands
1994 Wycliffe
1996 Testament: The Bible in Animation / Voz
1997 Insiders
1997 Kavanagh QC
1999–2000 Kiss Me Kate
1998–2000 The Canterbury Tales
1999 People Like Us
2000 Longitude/ Telefilm
2000 Animated Tales of the WorldTiger / Voz
2002 Auf Wiedersehen, Pet
2002 The Inspector Lynley Mysteries
2003 State of Play
2003 Ready When You Are, Mr. McGill/ Telefilm
2003 The Lost Prince/ Telefilm
2003 The Canterbury Tales
2003 The Young Visiters/ Telefilm
2003 Life Beyond the Box: Norman Stanley / Voz
2004 He Knew He Was Right
2005 The Girl in the Café/ Telefilm
2005 Gideon's Daughter/ Telefilm
2006 Horizon / Voz
2009 10 Minute Tales
2010 Doctor Who
2011 Page Eight
2014 Turks & Caicos
2014 Salting the Battlefield
2018 Ordeal by Innocence
2019 The World's Most Scenic Railway Journeys / Voz
2020–2021 CastlevaniaSaint Germain / Voz
2021 World's Most Scenic River Journeys / Voz
2022 The Man Who Fell to Earth
*buscabiografias.com
---

 Artículo: Biografía de Bill Nighy 
 Autor: Víctor Moreno, María E. Ramírez, Cristian de la Oliva, Estrella Moreno y otros
 Website: Buscabiografias.com
 URL: https://www.buscabiografias.com/biografia/verDetalle/12139/Bill%20Nighy 
 Publicación: 2023/02/22 
 Última actualización: 2023/07/19 
---
---