Cole Porter
(1893/06/09 - 1964/10/15)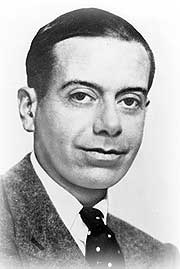 Cole Porter

Compositor estadounidense







Nació el 9 de junio de 1893 en Perú (Indiana).

Cursó estudios en las universidades de Yale y Harvard.

Durante su adolescencia comenzó a escribir canciones populares y en 1916 realizó su primer trabajo profesional para la revista musical See America First. En 1917 se alistó en la Legión Extranjera Francesa, para algún tiempo después pasar al Ejército francés. Tras la I Guerra Mundial regresó a Estados Unidos.


Entre las comedias musicales de
Broadway
para las que escribió destacan,
Fifty Million Frenchmen
(1929),
Anything Goes
(1934),
Kiss Me Kate
(1949) y
Can-Can
(1953). Compuso además bandas sonoras para diferentes películas. Entre sus temas destacan
"Night and Day
", "
Begin the Beguine
", "
What Is This Thing Called Love?
" y "
I've Got You Under My Skin
".
Cole Porter falleció el 15 de octubre de 1964 en
Santa Mónica
, California.
Canciones seleccionadas
1919 Hitchy Koo Of 1919 — An Old Fashioned Garden
1928 Paris — Let's Do It, Let's Fall In Love
1929 Wake Up And Dream — What Is This Thing Called Love?
1929 Fifty Million Frenchmen — You Do Something To Me
1930 The New Yorkers — Love for Sale, I Happen To Like New York
1932 Gay Divorce — After You, Who, Night And Day
1933 Nymph Errant — Experiment, The Physician, It's Bad For Me
1934 Anything Goes — All Through the Night 1935 Jubilee — Begin the Beguine, Just One Of Those Things
1936 Red, Hot and Blue — It's De-Lovely
1936 Born to Dance film — Down in the Depths, Easy To Love You'd Be So Easy To Love, I've Got You Under My Skin
1937 Rosalie film — In the Still of the Night
1937 You Never Know — At Long Last Love, From Alpha To Omega
1938 Leave It To Me — From Now On, My Heart Belongs to Daddy
1939 Broadway Melody Of 1940 — Between You And Me
1939 Dubarry Was A Lady — Do I Love You, Well, Did You Evah!, Friendship
1940 Panama Hattie — Let's Be Buddies, Make It Another Old-Fashioned, Please
1941 You'll Never Get Rich film — Dream Dancing, So Near and Yet So Far
1941 Let's Face It — Everything I Love, I Hate You, Darling
1942 Something for the Boys — Could It Be You
1942 Something To Shout About — You'd Be So Nice To Come Home To
1943 Mexican Hayride — I Love You
1944 Seven Lively Arts — Every Time We Say Goodbye
1946 Around the World in Eighty Days — Look What I Found
1947 The Pirate — Be a Clown 1948 Kiss Me, Kate — Another Op'nin'
1950 Out Of This World — From This Moment On, I Am Loved
1953 Can-Can — I Am In Love, I Love Paris, C'est Magnifique
1954 Silk Stockings — All Of You, Paris Loves Lovers
1955 High Society — Mind If I Make Love To You
1956 Les Girls — Ca, C'est L'amour, You're Just Too, Too
*buscabiografias.com
---

 Artículo: Biografía de Cole Porter  
 Autor: Víctor Moreno, María E. Ramírez, Cristian de la Oliva, Estrella Moreno y otros
 Website: Buscabiografias.com
 URL: https://www.buscabiografias.com/biografia/verDetalle/3224/Cole%20Porter 
 Publicación: 2004/12/22 
 Última actualización: 2022/08/16 
---
---