Lloyd Owen
(1966/04/14 - Unknown)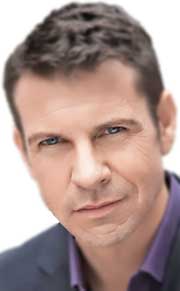 Actor británico
–Dejé de leer críticas hace unos ocho años–
Conocido por su interpretación en la película Apollo 18.
Televisión: El Señor de los Anillos, Midsomer Murders...
Películas: Miss Potter, Thugs of Hindostan
Padres: Glyn Owen y Patricia Mort
Cónyuge: Juliette Mole
Hijos: Mimi Owen, Maxim Owen
Nombre: Richard Lloyd Owen
Altura: 1,83 m
"Si pudiera ganarme la vida con los salarios del teatro, solo haría eso"

Lloyd Owen
Lloyd Owen
nació el 14 de abril de 1966 en
Londres
, Reino Unido.
Familia
Hijo de la actriz Patricia Mort, originaria de Morriston, Gales, y del actor Glyn Owen, de Caernarfon, en el noroeste de Gales. Hermano de la también actriz Cathy Owen.
Estudios
Cursó estudios en la Highgate School. A los dieciséis años ingresó en el National Youth Theatre y después asistió a la Royal Academy of Dramatic Art en Londres.
Habla francés con fluidez
Actor
Comenzó su carrera como actor en la compañía de teatro
Cheek by Jowl
, con la que realizó una gira mundial interpretando obras de
Shakespeare
.
Televisión
De 1992 a 1993, interpretó al profesor Henry Jones, Sr., padre de Indiana Jones, en la serie de televisión
The Young Indiana Jones Chronicles
.
Apareció enla popular serie de la BBC
Monarch of the Glen
entre 2002 y 2005.
Fue el profesor Jon Ford en
The Innocence Project
(2006-2007). Debido a las malas críticas y la caída de la audiencia, la serie se retiró a mitad de la primera temporada.
El señor de los anillos
A principios de 2020, se supo que Owen fue elegido para formar parte del reparto de la serie de
El señor de los anillos
con estreno el 2 de septiembre de 2022 en todo el mundo a través de Amazon Prime Video. Una superproducción basada en la obra más célebre de
J.R.R. Tolkien
con un costo aproximado de 465 millones de dólares solo para la primera temporada, convirtiéndose así en la más cara de todos los tiempos.
La historia apareció antes en el cine siendo rodada también en Nueva Zelanda como la serie, que está producida entre otros, por el español
Juan Antonio Bayona
para Amazon Studios, y que se sitúa miles de años antes de lo narrado en
El Hobbit
en la trilogía para el cine.
Películas
En el cine trabajó en filmes como
The Republic of Love
(2003),
Miss Potter
(2006),
Apollo 18
(2011),
Free Ride
(2013),
The man with the iron heart
(2017) y
Thugs of Hindostan
, entre otros.
Matrimonio e hijos
Casado con la actriz Juliette Mole, con la que tuvo dos hijos, Mimi y Maxim.
Sabías que...
Barítono

Además de actor es cantante barítono.
Selección de trabajos
Theatre
The Passport
The Parquet Floor
Philoctetes
The Tempest
Macbeth
1986 Twelfth Night
1989 Hamlet
1994 Henry VI, Part 3
1995 Our Boys
1995 Grab the Dog
1996 East Lynne
1996 Who's Afraid of Virginia Woolf?
2000 The Way of the WorldJulius Caesar
2001 Edward II
2003 Iphigenia
2005 Paul
2012 The Bodyguard
2016 The End of Longing

Televisión
1992–1993 The Young Indiana Jones Chronicles
1993 All in the Game Darren Matthews
1994 The Cinder Path Charlie MacFell
Young Indiana Jones: Travels with Father
1998 Get Real
2000 Hearts and Bones
2002 Des del Balcó
2000-2004 Coupling
2000-2005 Monarch of the Glen
2002 Dead Gorgeous
2006–2007 The Innocence Project
2007 Viva Laughlin
2009 Taking The Flak
2012 Fairly Legal
2014 The Originals
2015 Midsomer Murders
2016 Death in Paradise
2016 Silent Witness 2022 The Lord Of The Rings

Cine
1999 Between Dreams
2002 The Seasons Alter
2003 The Republic of Love
2004 Get the Picture
2006 Miss Potter
2011 Apollo 18
2018 Thugs of Hindostan
Enlaces de interés:
*buscabiografias.com

 Artículo: Biografía de Lloyd Owen 
 Autor: Víctor Moreno, María E. Ramírez, Cristian de la Oliva, Estrella Moreno y otros
 Website: Buscabiografias.com
 URL: https://www.buscabiografias.com/biografia/verDetalle/11366/Lloyd%20Owen 
 Publicación: 2021/08/07 
 -dateModified- Última actualización: 2021/08/07