Leon Wadham
(Unknown - Unknown)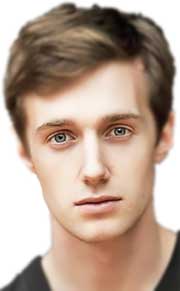 Actor neozelandés
Conocido por su interpretación de Levi Hirsh en la serie Go Girls.
Televisión: El Señor de los Anillos, Dark Night...
Películas: Under the Mountain, A Bend in the Road...
Altura: 1,78 m
Leon Wadham
nació en 2000 en Nueva Zelanda.
Estudios
Cursó estudios en la escuela de teatro Toi Whakaari de Nueva Zelanda, donde obtuvo un título en Artes Escénicas.
Televisión
Su primera aparición televisiva fue en 2001 actuando en la serie
Dark Night
.
En 2012, formó parte del reparto de
Pirates of the Airwaves
. Un año después se unió al elenco de la quinta temporada de la serie
Go Girls
, interpretando el papel de Levi Hirsh.
Trabajó en
The Brokenwood Mysteries
, estrenada en 2014 y
The Bad Seed
(2019).
El señor de los anillos
A principios de 2020, se supo que Wadham había sido seleccionado para formar parte del elenco de la serie de
El señor de los anillos
con estreno el 2 de septiembre de 2022 en todo el mundo a través de Amazon Prime Video. Una superproducción basada en la obra más célebre de
J.R.R. Tolkien
con un costo aproximado de 465 millones de dólares solo para la primera temporada, convirtiéndose así en la más cara de todos los tiempos.
La historia apareció antes en el cine siendo rodada también en Nueva Zelanda como la serie, que está producida entre otros, por el español
Juan Antonio Bayona
para Amazon Studios, y que se sitúa miles de años antes de lo narrado en
El Hobbit
en la trilogía para el cine.
Películas
En el cine apareció en largometrajes como
Under the Mountain
(2009),
Blankets
(2012),
Shopping
(2012),
School Night
(2014) y
Moving
(2016).
Filmografía
Televisión
2022 The Lord of the Rings
2013 - presente Go Girls
2012 Pirates of the Airwaves
2001 Dark Night

Películas
2012 A Bend in the Road - corto
2012 The Catch - corto
2012 Blankets - corto
2012 Shopping
2011 Packed
2011 Wellington - corto
2009 Under the Mountain
2009 Monkeys Don't Mix - corto
2008 Jack & Jill Jack -corto
2006 Maintain
Enlaces de interés:
*buscabiografias.com
---

 Artículo: Biografía de Leon Wadham 
 Autor: Víctor Moreno, María E. Ramírez, Cristian de la Oliva, Estrella Moreno y otros
 Website: Buscabiografias.com
 URL: https://www.buscabiografias.com/biografia/verDetalle/11373/Leon%20Wadham 
 Publicación: 2021/08/10 
 Última actualización: 2023/07/19 
---
---