Murray Bartlett
(1971/03/20 - Unknown)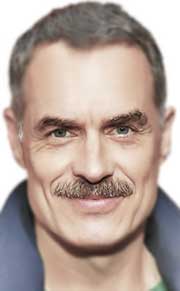 Actor australiano
–Soy adicto al cine y un fanático de los DVD–
Conocido por su interpretación de Dom Basaluzzo en la serie de HBO Looking.
Televisión: The White Lotus, Tales of the City...
Películas: Stubborn, Needle
Altura: 1,8 m
"Nunca he sido un gran noctambulo, tengo una vida bastante discreta"

Murray Bartlett
Murray Bartlett
nació 20 de marzo de 1971 en
Sídney
, Australia.
Se crio en Perth, Australia Occidental.
Estudios
Se graduó del Instituto Nacional de Arte Dramático de Australia (NIDA) con una licenciatura en Artes Escénicas en 1991.
Televisión
Comenzó su carrera actuando durante varios años en su país, donde apareció en las series
HeadLand
y
Neighbours
(1993), donde interpretó al estafador Luke Foster.
En 2000, se trasladó a los Estados Unidos. Su primera gran oportunidad le llegó en 2002, cuando apareció en la serie de HBO
Sex and the City
. Posteriormente interpretó el papel de Douglas D.K. Knox en
Farscape
.
Durante 2006 realizó una gira por Australia con la compañía teatral de
Hugh Jackman
, actuando en la obra estrenada en Broadway
The Boy From Oz
.
De 2007 a 2009 fue miembro del elenco de la telenovela estadounidense
Guiding Light
.
Entre 2014 y 2015 interpretó a Dom Basaluzzo en la serie de comedia dramática de HBO
Looking
, papel que repitió en 2016 en el filme de televisión,
Looking: The Movie
. En 2017, trabajó en la serie dramática musical
Nashville
.
Declarado abiertamente gay, en 2019 representó el papel de Michael Tolliver, un gay portador del VIH, en la serie de Netflix
Tales of the City
.
Protagonizó la miniserie de HBO
The White Lotus
, estrenada en julio de 2021. Por esta interpretación, recibió nominaciones a los Screen Actors Guild, Critics' Choice, Independent Spirit y Australian Academy of Cinema and Television Arts.
Películas
Debutó en el cine en 1995, actuando en el filme
Dad and Dave: On Our Selection
, al que seguirían:
The Three Stooges
(2000),
Needle
(2010),
Girl Most Likely
(2013) o
Stubborn
(2015), entre otros.
Filmografía
Televisión
1987 The Flying Doctors
1992 Home and Away
1992–1993 A Country Practice
1993 Neighbours
1995 The Ferals
1996 G.P.
1996 The Beast
1997 The Tower
1997 Flipper
1999 Murder Call
2000 Above the Law
2001 Flat Chat
2002 Sex and the City
2002 McLeod's Daughters
2002 The Secret Life of Us
2002 All My Children
1999–2003 Farscape
2006 Headland
2006 All Saints
2009 White Collar
2011 Damages
2014–2015 Looking
2016 Looking: The Movie
2017 Nashville
2017–2018 Iron Fist
2019 Tales of the City
2019 Madam Secretary
2021 The Wihite Lotus
2023 The Last of Us

Cine
1995 Dad and Dave: On Our Selection
1999 Half Mongrel - corto
2000 The Three Stooges
2001 Muffled Love - corto
2005 Postmortem Troy - corto
2007 Om John - corto
2010 Needle
2011 August
2013 Girl Most Likely
2013 Kingston Avenue
2015 Stubborn
2020 The Stand In
Enlaces de interés:
Películas y televisión:
Videos:
Imágenes:
*buscabiografias.com
---

 Artículo: Biografía de Murray Bartlett 
 Autor: Víctor Moreno, María E. Ramírez, Cristian de la Oliva, Estrella Moreno y otros
 Website: Buscabiografias.com
 URL: https://www.buscabiografias.com/biografia/verDetalle/11396/Murray%20Bartlett 
 Publicación: 2021/08/19 
 -dateModified- Última actualización: 2023/01/01
 
---
---