Timothy Bottoms
(1950/08/30 - Unknown)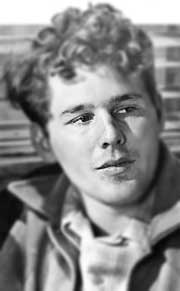 Actor estadounidense
–A lot of feature films do two pages a day–
Actor promesa de principios de los 1970.
Películas: Johnny got his gun, The last picture show, Pound of Flesh...
Padres: Betty Chapman y James Bottoms
Cónyuges: Alicia Cory (m. 1975–1982), Marcia Morehart (m. 1984)
Hijos: Benton, Bridget, Bartholomew, William
Nombre: Timothy James Bottoms
Altura: 1,81 m
"Me impulsaron a dar la mejor actuación posible basado en el material que se me dio"

Timothy Bottoms
Timothy Bottoms
nació el 30 de agosto de 1950 en
Santa Barbara
, California, Estados Unidos.
Familia
Hijo mayor de Betty Chapman y James "Bud" Bottoms, escultor y maestro de arte. Hermano de los actores Joseph Bottoms (nacido en 1954), Sam Bottoms (1955-2008) y Ben Bottoms (1960). Considerado como el hermano con más talento.
Películas
Consiguió cierta celebridad en su debut a las órdenes de
Peter Bogdanovich
en
La última película
, donde encarnaba a un adolescente enamorado de una mujer mayor que él, y posteriormente en
Johnny cogió su fusil
.
Trabajó en filmes como:
The paper chase
,
Love and pain and the whole damn thing
o
Elephant
.
Acabó en la
serie B
y la
televisión
, hasta retomar su primer papel para la pantalla en
Texasville
.
Productor
Fue productor ejecutivo de varios documentales entre los que destaca
Picture This: the Time of Peter Bogdanovich
.
Matrimonios e hijos
Contrajo matrimonio en 1975 con la cantante
Alicia Cory
, con la que tuvo un hijo, Bartholomew, se divorciaron en 1982.
Dos años después se casó con Marcia Morehart , tuvieron tres hijos: Benton, Bridget y William.
Sabías que...
Enamorado

En un documental sobre "The Last Picture Show", Timothy declaró que estaba enamorado de su coprotagonista Cybill Shepherd durante el rodaje, aunque ella no le correspondió.
Filmografía
2019 The Shed
2018 Railroad to Hell: A Chinaman's Chance
2016 Welcome to the Men's Group
2012 1 Nighter
2010 Realm of the mole men
2010 Pound of Flesh
2009 The Land That Time Forgot
2009 Call of the Wild
2009 An American Girl: Chrissa Stands Strong
2008 Chinaman's Chance
2008 Parasomnia
2007 Along the Way
2007 Shanghai Kiss
2005 Paradise, Texas
2004 The Girl Next Door
2004 Ike: Countdown to D-Day [TV]
2003 DC 9/11: Time of Crisis
2003 Elephant
2000 The Hiding Place
1999 The Prince and the Surfer
1999 Diamondbacks
1999 Black Sea 213
1998 The Man In The Iron Mask
1997 Mr. Atlas
1997 Uncle Sam
1996 Ringer
1995 Top Dog
1994 Ava's Magical Adventure
1993 King of the Hill
1993 Land of the Lost
1992 Digger or
1990 Texasville
1990 Istanbul
1989 Return from the River Kwai
1988 The Drifter
1988 A Case of Honor
1987 Mio min Mio
1987 Island Sons [TV]
1986 Perry Mason: The Case of the Notorious Nun [TV]
1986 Invaders from Mars
1986 In the Shadow of Kilimanjaro
1986 The Fantasist
1986 Husbands, Wives, Money & Murder
1985 The Sea Serpent
1985 What Waits Below
1984 Hambone and Hillie
1984 The Census Taker
1984 Love Leads the Way [TV]
1983 Tin Man
1981 The High Country
1981 John Steinbeck's East of Eden
1980 East of Eden [TV]
1980 Escape [TV]
1979 Hurricane
1979 A Shining Season [TV]
1978 The Gift of Love [TV]
1978 Short Story Collection II: The Gift of Love
1978 The Other Side of the Mountain 2
1977 Rollercoaster [TV]
1976 A Small Town in Texas
1976 The Story of David [TV]
1976 The Moneychangers [TV]
1976 Operation Daybreak
1974 The White Dawn
1974 The Crazy World of Julius Vrooder
1973 The Paper Chase
1973 Love and Pain and the Whole Damn Thing
1971 Johnny Got His Gun
1971 The Last Picture Show
*buscabiografias.com
---

 Artículo: Biografía de Timothy Bottoms  
 Autor: Víctor Moreno, María E. Ramírez, Cristian de la Oliva, Estrella Moreno y otros
 Website: Buscabiografias.com
 URL: https://www.buscabiografias.com/biografia/verDetalle/5171/Timothy%20Bottoms 
 Publicación: 2008/06/03 
 -dateModified- Última actualización: 2023/02/10
 
---
---