Lee Konitz
(1927/10/13 - 2020/04/15)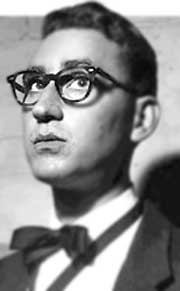 Músico estadounidense
–Hay que fomentar la experimentación.–
Con siderado uno de los más grandes improvisadores.
Álbumes: Peacemeal, Sax of a Kind, You and Lee...
Género: Jazz, Cool...
Instrumento: Saxofón
Discográficas: RCA, Verve, Atlantic, Whirlwind...
Nombre: Leon Konitz
Interpretación de Lee Konitz
"Mi manera de tocar es la mejor enseñanza que puedo ofrecer"

Lee Konitz
Lee Konitz
nació el 13 de octubre de 1927, en
Chicago
, Illinois, Estados Unidos.
Primeros años
Hijo de padres judíos de origen austríaco y ruso.
A los once años, recibió su primer instrumento, un clarinete, que más tarde cambió por el saxofón tenor.
Sus mayores influencias por entonces eran los grandes bandas que junto a su hermano escuchan en la radio, en particular, la de
Benny Goodman
.
Carrera
Desarrolló su estilo a finales de los años 40 como miembro de la
Claude Thornhill´s Band
, tomando parte en las sesiones de
Miles Davis
.
Aprendió del maestro
Tristano
el uso metronómico de bajo y batería, un modo de improvisación espontánea.
Grabó
In Paris
(1953 y 1954) con la banda
Black lions
,
Duets
(1967). En Europa editó álbumes como
I concentrate on you
y
Jazz a Juan
.
Figure and Spirit
es un esfuerzo experimental.
En 1990, tocó el saxofón alto y soprano en
Zounds
. Compusó
Lullaby of Birthland
(1991) y
Rhapsody
, obra maestra semejante a su predecesora Duets, que pronto dio origen a
Rhapsody II
.
En 2012, actuó en el
Blue Note
en Greenwich Village, colaborando con
Bill Frisell
,
Gary Peacock
y
Joey Baron
.
Fallecimiento
Lee Konitz, considerado uno de los más importantes y originales creadores de la historia del jazz, murió el 15 de abril de 2020 en el hospital Lenox Hill de
Nueva York
a consecuencia de complicaciones en una neumonía provocada por la covid-19. Tenía 92 años.
Discografía
1949: Lee Konitz
1949: Subconscious-Lee
1951: Sax of a Kind
1953: Lee Konitz/Bob Brookmeyer in Paris
1953: Konitz Meets Mulligan
1954: Konitz
1954: Jazz at Storyville
1954: In Harvard Square
1954: Lee Konitz/Warne Marsh
1956: Lee Konitz Featuring Hans Koller, Lars Gullin, Roland Kovac
1956: Inside Hi-Fi
1957: Tranquility
1957: The Real Lee Konitz
1958: Very Cool
1958: An Image: Lee Konitz with Strings
1959: Lee Konitz Meets Jimmy Giuffre
1959: You and Lee
1959: Live at the Half Note
1961: Motion
1965: Trio and Quartet
1966: Modern Jazz Compositions from Haiti
1967: The Lee Konitz Duets
1968: Impressive Rome
1968: European Episode
1969: Peacemeal
1970 - Lee Konitz: Lee Konitz Sax Duets
1971 - Lee Konitz: Spirits
1973 - Various artists: Altissimo
1974 - Lee Konitz: Jazz Juan
1974 - Lee Konitz: Satori
1974 - Lee Konitz: Lone-Lee
1974 - Lee Konitz: I Concentrate on You
1975 - Warne Marsh Quintet: Jazz Exchange
1975 - Lee Konitz/Hal Galper: Windows
1975 - Lee Konitz Trio: Oleo
1975 - Lee Konitz: Chicago 'n' All That Jazz
1976 - Warne Marsh/Lee Konitz: Lee Konitz Meets Warne Marsh Again
1976 - Lee Konitz Quintet: Figure and Spirit
1977 - Lee Konitz: The Lee Konitz Quintet
1977 - Lee Konitz: The Lee Konitz Nonet
1977 - Lee Konitz: Tenorlee
1977 - Lee Konitz: Pyramid
1979 - Lee Konitz/Karl Berger: Seasons Change
1979 - Lee Konitz Nonet: Live at Laren
1979 - Lee Konitz: Yes, Yes Nonet
1980 - Lee Konitz/Martial Solal: Live at the Berlin Jazz Days
1980 - Lee Konitz/Gil Evans: Heroes
1982 - Lee Konitz: Toot Sweet
1983 - Lee Konitz: Glad, Koonix!
1983 - Lee Konitz/Martial Solal: Star Eyes, Hamburg 1983
1983 - Lee Konitz: Dovetail
1983 - Lee Konitz: Dedicated To Lee: Lee Konitz Plays The Music of Lars Gullin
1983 - Lee Konitz: Art of the Duo
1984 - Lee Konitz: Wild as Springtime
1986 - Lee Konitz Quartet: Ideal Scene
1986 - Lee Konitz: Medium Rare
1987 - Lee Konitz Quartet: The New York Album
1988 - Lee Konitz/The Space Jazz Trio: Blew
1988 - Lee Konitz: Solitues
1989 - Lee Konitz: In Rio
1989 - Lee Konitz: Konitz in Denmark
1989 - Lee Konitz: Round and Round
1990 - Lee Konitz/Frank Wunsch Quartet: S'Nice
1990 - Lee Konitz: Zounds
1990 - Lee Konitz: Once Upon a Line
1991 - Lee Konitz/Lars Sjosten Quartet: Friends
1991 - Lee Konitz: Lullaby of Birdland
1992 - Lee Konitz/The Jazzpar All Star Nonet: Leewise
1992 - Lee Konitz Quartet/Kenny Barron: Jazz Nocturne
1992 - Lee Konitz: Lunasea
1992 - Lee Konitz: From Newport to Nice
1992 - Lee Konitz: Frank-Lee Speaking
1993 - Lee Konitz: Rhapsody
1993 - Lee Konitz/Renato Sellani: Speakin' Lowly, Volume 1
1993 - Lee Konitz: So Many Stars
1993 - Lee Konitz: Rhapsody II
1993 - Lee Konitz: Italian Ballads, Volume1
1993 - Lee Konitz: Brazilian Rhapsody
1994 - Lee Konitz/Orchestra Il Suono Improvviso: A Venezia
1994 - Lee Konitz/Alain Guyonnet: Swiss Kiss
1995 - Lee Konitz Quintet: Haiku
1995 - Lee Konitz/Umberto Petrin: Breaths and Whispers
1995 - Lee Konitz/John Pl Indreberg: Step Towards a Dream
1995 - Lee Konitz/Don Friedman/Attila Zoller: Thingin'
1995 - Lee Konitz: Move
1995 - Lee Konitz: Free with Lee
1996 - Lee Konitz Trio: Alone Together
1996 - Lee Konitz/Jeanfranois Prins Trio: Live at the Manhattan Jazz Club
1996 - Lee Konitz: Guaraná
1996 - Lee Konitz: Unaccompanied Live in Yokohama
1996 - Lee Konitz: Strings for Holiday: A Tribute To Billie Holiday
1996 - Lee Konitz: Lee Konitz Meets Don Friedman
1996 - Lee Konitz: It's You
1997 - Lee Konitz/Franco D'Andrea: Twelve Gershwin in Twelve Keys
1997 - Lee Konitz/Paul Bley: Out of Nowhere
1997 - Lee Konitz/Frank Wunsch: The Frankfurt Concert
1997 - Lee Konitz: Dearly Beloved
1997 - Lee Konitz: Body and Soul
1998 - Lee Konitz: Saxophone Dreams
1998 - Lee Konitz/Johannes Schaedlich: Subconscious-Lee
1998 - Lee Konitz/Franco D'Andrea: Inside Cole Porter
1998 - Lee Konitz/Enrico Rava: L'Age Mur
1998 - Lee Konitz: Tender Lee
1998 - Lee Konitz: Self Portrait
1998 - Lee Konitz: Dialogues
1999 - Lee Konitz/Ted Brown: Dig-It
1999 - Lee Konitz/Steve Swallow/Paul Motian: Three Guys
1999 - Lee Konitz Trio: Another Shade of Blue
2000 - Lee Konitz/The Axis Quartet: Play French Impressionist Music from the Turn of the Twentieth Century
2000 - Lee Konitz/rich Perry: RichLee!
2000 - Lee Konitz Quartet: Sound of Surprise
2000 - Lee Konitz: Pride
2001 - Lee Konitz/Franco D'Andrea: Inside Rodgers 2001 - Lee Konitz/Renato Sellani: Minority, Volume 2: All The Way
2001 - Lee Konitz Trio: Some New Stuff
2001 - Lee Konitz Quintet: Parallels
2002 - Lee Konitz/Matt Wilson: Gong with Wind Suite
2002 - Lee Konitz/Irio De Paula: Duas Contas
2002 - Lee Konitz/Barbara Casini: Outra Vez
2002 - Lee Konitz: At the New Mississippi Jazz Club
2003 - Lee Konitz: Live-Lee
2003 - Lee Konitz/Stephano Bollani: Suite for Paolo
2003 - Lee Konitz/Kenny Werner: Unleemited
2003 - Lee Konitz: A Day in Florence
2004 - Lee Konitz: BargaLee
2004 - Lee Konitz: Sound-Lee
2004 - Lee Konitz: One Day With Lee
2006 - Lee Konitz-Ohad Talmor String Project: Inventions
2006 - Lee Konitz: New Nonet
2007 - Lee Konitz/Riccardo Arrighini: The Soprano Sax Album: Standards
2007 - Lee Konitz-Ohad Talmor Big Band: Portology
Enlaces de interés:
*buscabiografias.com
---

 Artículo: Biografía de Lee Konitz 
 Autor: Víctor Moreno, María E. Ramírez, Cristian de la Oliva, Estrella Moreno y otros
 Website: Buscabiografias.com
 URL: https://www.buscabiografias.com/biografia/verDetalle/7912/Lee%20Konitz 
 Publicación: 2013/12/29 
 Última actualización: 2023/05/26 
---
---