Christopher Lee
(1922/05/27 - 2015/06/07)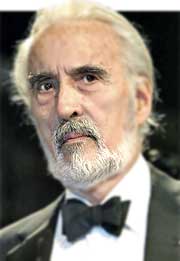 Christopher Lee
Christopher Frank Carandini Lee

Actor británico



Nació el 27 de mayo de 1922 en Belgravia, Westminster, Londres.

Hijo del Teniente Coronel Geoffrey Trollope Lee (1879-1941), de la 60th King's Royal Rifle Corps, y de la condesa Estelle Marie Carandini di Sarzano (1889-1981). Su padre luchó en la Guerra de los Boers y en la I Guerra Mundial, y su madre fue una famosa belleza retratada por diversos artistas. Tuvo una hermana, Xandra (1917-2002).

Sus progenitores se separaron cuando él tenía cuatro años. Por ese tiempo residió en Wengen en Suiza, junto a su madre y hermana.


Tras regresar a Londres, su madre se casó con Harcourt George St-Croix Rose, un banquero y tío del escritor
Ian Fleming
, autor de las novelas de James Bond. La familia se trasladó a Fulham.
Su padrastro se arruinó y su madre se separó. Su hermana y él debieron buscar trabajo, ella fue secretaria en una iglesia y él trabajó como oficinista.
Durante la
II Guerra Mundial
se alistó como voluntario en la
Royal Air Force
.
Quiso dedicarse a la
ópera
y fue componente de los
coros
de la
Opera de Estocolmo
.
En 1948 apareció por primera vez en la pantalla y durante diez años interpretó una treintena de papeles de poca importancia. Su gran ocasión llegó en 1957 por
Terence Fisher
, que le convirtió en sucesor de
Boris Karloff
en
La maldición de Frankenstein
, así inició su ciclo inglés de
películas fantásticas y de terror
de la que Fisher y la compañía
Hammer Films
fueron los principales artesanos.
Encarnó una extraordinaria serie de monstruos cinematográficos: la momia (
La momia
, Fisher 1959), Fu Manchú (
El regreso de Fu Manchú
, D. Sharp, 1965), o
Rasputín
; además se codeó con Orlac (
Las manos de Orlac
,
E. T. Gréville
, 1961) la Gorgona (
The Gorgon
, Fisher, 1964) y la inmortal Ayesha (
La diosa de fuego
[She]
Robert Day
, 1965).
También interpretó a Henry Baskerville en
El perro de Baskerville
(Fisher, 1959), a
Sherlock Holmes
en
El collar de la muerte
(id. 1962), y por último al hermano de éste en
La vida privada de Sherlock Holmes
(
Billy Wilder
, 1970). De
Drácula
(Fisher, 1958) a
Drácula père et fils
(E.
Molinaro
, 1976), asumió en cerca de veinte películas la permanencia del mito.
Posteriormente apareció en el 2001 en
Lord of the Rings: The Fellowship of the Ring
y en el año 2002 en
Star Wars: Episode II - Attack of the Clones
. En 2010 trabajó en la película de
Tim Burton
,
Alicia en el País de las Maravillas
, y en 2012 y 2014 apareció en
The Hobbit
.
Se relacionó con la pintora y ex modelo danesa Birgit Kroencke con la que se casó el 17 de marzo de 1961. Tuvieron una hija, Christina Erika.
Christopher Lee falleció el domingo 7 de junio de 2015 a los 93 años en un hospital de
Chelsea
a causa de un problema respiratorio.
Filmografía
2015 Extraordinary Tales /Voz
2014 Angels in Notting Hill
2014 The Hobbit: The Battle of the Five Armies
2013 The Girl from Nagasaki
2013 Necessary Evil /Voz
2013 Night Train to Lisbon
2012 The Hobbit: An Unexpected Journey
2012 Dark Shadows
2011 The Resident
2011 Hugo
2010 Alicia en el País de las Maravillas
2009 Triage
2008 The Heavy
2008 Cowboys for Christ
2007 La brújula dorada
2006 La novia cadáver
2005 The Adventures of Greyfriars Bobby
2005 Charlie y la fábrica de chocolate
2005 Star Wars Episodio III: La Venganza de los Sith
2004 The Crimson Rivers II: The Angels of the Apocalypse
2003 The Lord of the Rings: The Return of the King
2002 Star Wars: Episode II - Attack of the Clones
2001 Lord of the Rings: The Fellowship of the Ring
1999 Tale of the Mummy
1999 Sleepy Hollow
1998 Jinnah
1996 The Stupids
1994 Funny Man
1994 Police Academy - Mission to Moscow
1993 Cybereden
1992 Innocent Blood
1991 Journey of Honor
1991 Sherlock Holmes and the Incident at Victoria Falls
1990 L'Avaro
1990 Honeymoon Academy
1990 Curse 3: Blood Sacrifice
1990 Gremlins 2: The New Batch
1990 The Rainbow Thief
1989 The Return of the Musketeers
1989 Murder Story
1987 Jocks
1987 Mio min Mio
1987 Dark Mission
1986 The Girl
1985 Howling II: Your Sister Is a Werewolf
1985 Mask of Murder
1984 The Far Pavilions
1984 The Rosebud Beach Hotel
1983 The Return of Captain Invincible
1982 Safari 3000
1982 House of the Long Shadows
1981 The Salamander
1981 Desperate Moves
1981 An Eye for an Eye
1981 Evil Stalks This House
1980 The Serial
1980 Bear Island
1979 Alien Encounter
1979 Arabian Adventure
1979 The Passage
1979 1941
1979 Jaguar Lives!
1978 Night of the Askari
1978 Caravans
1978 Circle of Iron
1978 Return from Witch Mountain
1977 Airport '77
1977 Meat Cleaver Massacre
1977 The End of the World
1977 Starship Invasion
1976 Dracula Père et Fils
1976 The Keeper
1976 Der Flüsternde Tod
1976 Die Braut des Satans
1975 Killer Force
1975 Le Boucher, La Star et l'Orpheline
1975 The Four Musketeers
1974 The Man with the Golden Gun
1974 The Wicker Man
1974 Diagnosis: Murder
1973 The Three Musketeers
1973 Raw Meat
1973 Count Dracula and His Vampire Bride
1973 I, Monster
1973 Dark Places
1972 Dracula A.D. 1972
1972 Pánico en el Transiberiano
1972 Vengeance of Virgo
1972 The Devil's Undead
1972 The Creeping Flesh
1971 Hannie Caulder
1971 I Monster
1971 The House That Dripped Blood
1970 The Private Life of Sherlock Holmes
1970 One More Time
1970 Julius Caesar
1970 Scream and Scream Again
1970 Taste the Blood of Dracula
1970 The Scars of Dracula
1969 El Conde Drácula
1969 The Oblong Box
1969 El Proceso de las Brujas
1969 The Magic Christian
1969 Die Jungfrau und die Peitsche
1968 Dracula Has Risen from the Grave
1968 Die Folterkammer des Dr. Fu Manchu
1968 The Vengeance of Fu Manchu
1968 The Crimson Cult
1968 Eve
1968 The Devil Rides Out
1968 The Blood of Fu Manchu
1967 Die Schlangengrube und das Pendel
1967 Theatre of Death
1967 Five Golden Dragons
1967 Circus of Fear
1967 Island of the Burning Doomed
1966 Rasputin, the Mad Monk
1966 Dracula - Prince of Darkness
1966 The Brides of Fu Manchu
1965 The Face of Fu Manchu
1965 She
1965 The Skull
1965 Dr. Terror's House of Horrors
1964 The Gorgon
1964 The Devil-Ship Pirates
1964 Il Castello dei Morti Vivi
1963 La Vergine di Norimberga
1963 The Whip and the Body
1963 Terror in the Crypt
1962 The Longest Day
1962 Sherlock Holmes und das Halsband des Todes
1962 The Pirates of Blood River
1962 The Devil's Agent
1961 Ercole al Centro Della Terra
1961 Too Hot to Handle
1961 Das Raetsel der roten Orchidee
1961 The Terror of the Tongs
1961 Das Geheimnis der gelben Narzissen
1961 Scream of Fear
1960 Horror Hotel
1960 Les Mains D'Orlac
1960 Two Faces of Dr. Jekyll
1960 Beat Girl
1959 The Treasure of San Teresa
1959 The Mummy
1959 Tempi Duri per i Vampiri
1959 The Hound of the Baskervilles
1959 The Man Who Could Cheat Death
1959 Corridors of Blood
1958 The Horror of Dracula
1958 Missiles from Hell
1958 The Truth About Women
1958 The Accursed
1958 A Tale of Two Cities
1957 Ill Met by Moonlight
1957 Bitter Victory
1957 The Curse of Frankenstein
1957 She Played with Fire
1956 Alias John Preston
1956 Beyond Mombasa
1956 Moby Dick
1956 Port Afrique
1956 A Private's Progress
1956 Pursuit of the Graf Spee
1955 The Warriors
1955 Crossroads
1955 The Cockleshell Heroes
1955 Storm over the Nile
1955 Police Dog
1955 The Final Column
1955 That Lady
1954 Destination Milan
1954 The Death of Michael Turbin
1953 Innocents in Paris
1952 Babes in Bagdad
1952 Moulin Rouge
1952 Valley of Eagles
1952 Mr. Potts Goes to Moscow
1952 Paul Temple Returns
1952 The Crimson Pirate
1951 Valley of the Eagles
1951 Captain Horatio Hornblower
1950 They Were Not Divided
1950 Prelude to Fame
1949 The Gay Lady
1949 My Brother's Keeper
1948 Penny and the Pownall Case
1948 One Night with You
1948 Saraband for Dead Lovers
1948 A Song for Tomorrow
1948 Hamlet
1948 Scott of the Antarctic
1948 Corridor of Mirrors
*buscabiografias.com
---

 Artículo: Biografía de Christopher Lee 
 Autor: Víctor Moreno, María E. Ramírez, Cristian de la Oliva, Estrella Moreno y otros
 Website: Buscabiografias.com
 URL: https://www.buscabiografias.com/biografia/verDetalle/8785/Christopher%20Lee 
 Publicación: 2015/09/20 
 Última actualización: 2023/02/10 
---
---