John Coltrane
(1926/09/23 - 1967/07/17)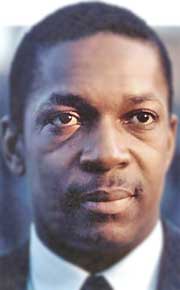 John Coltrane
John William Coltrane

Saxo soprano, tenor y compositor estadounidense







Nació el 23 de septiembre de 1926 en Hamlet, Carolina del Norte (Estados Unidos).

Durante la década de 1950 actuó con grupos liderados por los trompetistas Dizzy Gillespie y Miles Davis, así como por el pianista Thelonious Monk.

Sus experimentos con estructuras armónicas cada vez más complejas le otorgaron un lugar preferente dentro de la vanguardia jazzística. De sus composiciones destacan 'Giant Steps', 'Blue Rain', 'A Love Supreme' y 'Father, Son and Holy Ghost'.


En 1992 la
National Academy of Recording Arts and Sciences
le otorgó, a título póstumo, un
Grammy
por sus éxitos en el mundo de la música.
John Coltrane murió de un fallo hepático el 17 de julio de 1967 murió de cáncer de hígado en el Huntington Hospital en Long Island,
Nueva York
.
Discografía
Como líder
1957 — Dakar
1957 — Coltrane
1957 — Lush Life
1957 — Traneing in
1957 — Blue Train
1957 — Cattin` With Coltrane And Quinichette
1957 — Wheelin And Dealin
1957 — The Beliver
1957 — The Last Trane
1958 — Soultrane
1958 — Settin` the Peace
1958 — Black Pearls
1958 — Standard Coltrane
1958 — The Stardust Session
1958 — Bahia
1958 — Coltrane Time
1958 — Blue Trane — John Coltrane Plays The Blues
1958 — Like Sonny
1959 — Giant Steps
1959 — Coltrane Jazz
1960 — The Avant Garde
1960 — My Favorite Things
1960 — Coltrane`s Sound
1960 — Coltrane Plays The blues
1961 — Olé
1961 — The Best Of John Coltrane
1961 — The Heavyweight Champion
1961 — Africa/Brass
1961 — The Complete Africa/Brass
1961 — Live At The Village Vanguard
1961 — Impressions
1961 — The Complete Paris Concerts
1961 — The Complete Copenhagen Concert
1961 — European Impressions
1961 — Live In Stockholm
1961 — Coltranology, vols.I & II
1961 — John Coltrane Quartet With Eric Dolphy
1961 — John Coltrane Meets Eric Dolphy
1962 — Coltrane
1962 — From The Original Master Tapes
1962 — Live At Birdland
1962 — The European Tour
1962 — The Complete Graz Concert vol 1
1962 — The Complete Graz Concert vol 2
1962 — The 1962 Graz Concert. Complete Edition
1962 — The Complete Stockholm Concert vol 1
1962 — The Complete Stockholm Concert vol 2
1962 — Stockholm` 62 The Complete Second Concert vol 1
1962 — Stockholm` 62 The Complete Second Concert vol 2
1962 — Visit To Scandinavia
1962 — On Stage 1962
1962 — Promise
1962 — Bye Bye Blackbird
1962 — Ballads
1962 — Ev`ry Time We Say Goodbye
1962 — Live At Birdland And The Half Note
1963 — Coltrane Live At Birdland
1963 — John Coltrane & Johnny Hartman
1963 — The Gentle Side Of John Coltrane
1963 — The Paris Concert
1963 — 63' The Complete Copenhagen concert vol 1
1963 — 63' The Complete Copenhagen concert vol 2
1963 — Live in Stockholm, 1963
1963 — Afro Blue Impressions
1963 — Newport 63'
1964 — Coast to Coast
1964 — Crescent
1964 — A Love Supreme
1964 — Dear Old Stockholm
1965 — The John Coltrane Quartet Plays
1965 — The Major Works Of John Coltrane
1965 — Transition
1965 — New Thing At Newport
1965 — Live In Paris
1965 — Live In Antibes
1965 — Love In Paris
1965 — A Love Supreme — Live In Concert
1965 — A Live Supreme
1965 — New York City 65' vol 1
1965 — New York City 65' vol 2
1965 — Live In Seatle
1965 — Om
1965 — First Meditations
1965 — Meditations
1965 — Sun Ship
1966 — Live At The Village Vanguard Again
1966 — Live In Japan
1966 — Interstellar Space
1966 — Stellar Regions
1967 — Expression
1967 — A John Coltrane Retrospective
1967 — One down, one up. Live at the Half Note
1967 — The Olatunji Concert. The Last Live Recording
*buscabiografias.com
---

 Artículo: Biografía de John Coltrane  
 Autor: Víctor Moreno, María E. Ramírez, Cristian de la Oliva, Estrella Moreno y otros
 Website: Buscabiografias.com
 URL: https://www.buscabiografias.com/biografia/verDetalle/9584/John%20Coltrane 
 Publicación: 2017/05/26 
 -dateModified- Última actualización: 2023/02/13
 
---
---