Otis Redding
(1941/09/09 - 1967/12/10)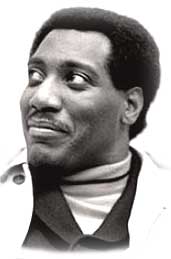 Otis Redding
Otis Ray Redding, Jr.

Cantante estadounidense







Nació el 9 de septiembre de 1941 en Dawson (Georgia).

Cuando tan sólo contaba tres años de edad, tuvo que trasladarse junto a su familia a Macon.


Debido a una enfermedad que tenía su padre, se vio obligado a abandonar sus estudios para mantener a su familia (cuatro hermanas y un hermano), alternando los trabajos de picador y dependiente de gasolinera con la música.
Se inició con la batería en el colegio entre bandas de grupos de
gospel
. Además cantaba junto con un cuarteto adolescente, también de gospel.
En 1958, le admitieron como vocalista de
The Upsetters
, antigua banda de
Little Richard
. Fue en este grupo donde conoció a su futura mujer
Zelma
, al guitarrista y showman Johnny Jenkins, así como a su futuro manager Phil Walden.
En 1960 se traslada a Los Angeles y trabajó lavando coches.
Grabó dos singles: "
She's alright
", "
Tuff Enuff
", "
I'm getting hip
" y "
Gama Lamma
". Cuando volvió a Macón en el año 1961, grabó un tercero en Athens, Georgia para el sello Confederate de Bobby Smith: "
Shout Bamalama
" y "
Fat Girl
". En 1963, "
That's what my heart needs
" y "
Mary's little lamb
", formaron un nuevo single, después aparece "
Pain in my heart
" y "
Something is worrying me
"; "
Come to me
", y "
Don't leve me this way
" que junto con "
Security
", se incorporarían a su primer álbum
Pain in my heart
, lanzado en febrero de 1964, junto con los músicos de sesión de la Stax, que secundaban sus grabaciones y sus más importantes conciertos: Isaac Hayes (órgano, piano), Booker T. Jones (teclados) y el
Memphis Group
de Al Jackson Jr. (batería), Steve Cropper (guitarra), Donald 'Duck' Dunn (bajo).
A mitad de 1965,
The Otis Blue
, que grabó en 24 horas, llegó el éxito. Alcanzaron el número 2 de las listas y una de sus canciones, "
I've been loving you too long
", escrita junto con
Jerry Butler
fue el mayor éxito comercial hasta "
Dock ...
"; "
Shake
" y "
A change is gonna come
", ambas de
Sam Cooke
; "
Rock me baby
", de
B.B. King
; "
Respect
", que más tarde popularizó
Aretha Franklin
, "
Ole man trouble
"; "
You don't miss your water
; "
Down in the valley
"; "
Satisfaction
", de
Rolling Stones
; "
My girl
", de
Smokey Robinson
).
En abril de 1966 aparece
The Soul Album
("Just one more day"; "Cigarettes and Coffee"; "Chain Gang", de Sam Cooke; "Good to me"; "Everybody makes a mistake", de Eddy Floyd; "I'ts growwing", de The Temptations). Ese mismo año, grabó el álbum en directo
Otis Redding in Person at the whisky a Go-Go
, aunque no apareció hasta después de su muerte. Grabó "
The dock of the bay
", de la que se venderían un millón de copias y fue su único primer número uno en las listas de pop y r & r.
El 10 de diciembre de 1967, sufrieron un accidente en
Lake Monona
, en las afueras de Madison (Wisconsin), a sólo tres minutos de su destino. Otis Redding murió, al igual que todos los integrantes del grupo excepto dos miembros de Bar-Keys (James Alexander y Ben Cauley).
Discografía
Pain In My heart (Stax, Ene 1964)
The Great Otis Redding Sings Soul Ballads (Stax, Mar 1965)
Otis Blue/Otis Redding Sings Soul (Stax, Sep 1965)
The Soul Album (Stax, Abr 1966)
The Otis Redding Dictionary of Soul: Complete and Unbelievable (Stax, Oct 1966)
King and Queen: Otis Redding/Carla Thomas (Stax, Mar 1967)
Live in Europe (Stax, Jul 1967)
The Dock of the Bay (Stax, Feb 1968)
The Inmortal Otis Redding (Atlantic, Jun 1968)
In Person at the whisky a Go-Go" (Live Abr 1966) (Atlantic, Oct 1968)
Love Man (Atlantic, Jun 1969)
Tell the Truth (Atlantic, Jul 1970)
Recorded Live (Atlantic, Mar 1982)
Remember me (Stax, Abr 1992)
Good to me: Recorded Live At The Whisky a Go-Go, Vol. 2 (Stax, Ene 1993)
En colaboración:
Recorded Live at The Apollo Theatre In New York (Atlantic, Feb 1964)
The Stax/Volt Revue, Volumen 1, Live in London (Stax, Jul 1967)
The Stax/Volt Revue, Volumen 2, Live in Paris (Stax, Jul 1967)
Stay in school (Stax, Oct 1967)
Soul as sung by Otis Redding and Little Joe (Alshire, Ene 1968)
Soul Christmas (Atlantic, Nov 1968)
The Monterey International Pop Festival con The Jimy Hendrix Experience (Reprise, Ago 1970)
The Complete Stax/Volt Singles, 1959-1968 (Atlantic, Abr 1991)
The Stax/Volt Revue: Hit The Road Stax, Volume 3 Live in Europe (Stax, May 1992)
Recopilaciones:
History of Otis Redding (Stax, Nov 1967)
The Best of Otis Redding (Atlantic, Ago 1972)
The Best of Otis Redding (Atlantic, Oct 1985)
The Otis Redding Story (Atlantic, Jul 1987)
The Very Best of the Otis Redding (Rhino/Atlantic, Nov 92)
Otis! The Definitive Otis Redding (Rhino, 1993)
Dreams to remember (Rhino, 1994)
The Very Best of Otis Redding. Vol. 2 (Rhino, 1995)
*buscabiografias.com
---

 Artículo: Biografía de Otis Redding 
 Autor: Víctor Moreno, María E. Ramírez, Cristian de la Oliva, Estrella Moreno y otros
 Website: Buscabiografias.com
 URL: https://www.buscabiografias.com/biografia/verDetalle/1960/Otis%20Redding 
 Publicación: 2003/03/20 
 -dateModified- Última actualización: 2023/02/13
 
---
---