Peter Falk
(1927/09/16 - 2011/06/24)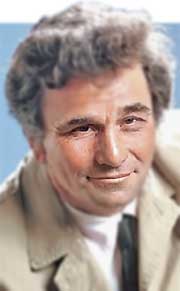 Peter Falk

Actor estadounidense



Nació el 16 de septiembre de 1927 en la ciudad de Nueva York.

Perteneciente a una familia con raíces polacas, húngaras y checas.

A los tres años le extrajeron su ojo derecho a causa de un cáncer y usó de por vida uno de cristal.


Apasionado de los deportes, compitió en atletismo, béisbol y baloncesto.
Cuando acabó el instituto intentó alistarse en la Armada en 1945. Rechazado por su ojo de cristal, fue cocinero en la marina mercante.
En 1952 retomó sus estudios en la Universidad de Siracusa, donde se graduó en Administración Pública. Intentó entrar en la
CIA
, pero no fue aceptado por haber pertenecido a un
sindicato
en su periodo en la marina. Empezó a dedicarse al teatro en una compañía de actores aficionados, y a estudiar en las clases de
Eva Le Gallienne
.
Su debut en la pantalla tuvo lugar con
Wind Across the Everglades
(
Nicholas Ray
, 1958) especializándose en papeles de
gangster
o de
detective
, que ampliará a la
televisión
en la
serie Colombo
, por la que ganó cuatro
Emmy
.
Se pueden destacar además sus trabajos en:
Un gangster para un milagro
(
Frank Capra
, 1961);
La clave de la cuestión
(H.
Cornfield
, 1962);
The Balcony
(J.
Strick
, 1963);
Río Conchos
(
Gordon Douglas
, 1964);
La carrera del siglo
(
Blake Edwards
, 1965);
Luv quiere decir amor
(C.
Donner
, 1967);
La fortaleza
(
Sidney Pollack
, 1969);
Husbands
(
John Cassavetes
1970);
Una mujer bajo influencia
(id., 1974);
Siempre hay tiempo para amar
(D.
Duke
, 1976);
Un detective barato
(The Cheap Detective, R.
Moore
, 1978) y
El cielo sobre Berlín
(
Wim Wenders
, 1987). Fue nominado en dos ocasiones al Oscar.
Con
Alyce Mayo
, estuvo casado de 1960 a 1976, y adoptó dos niñas, Catherine (que acabaría siendo detective privado) y Jackie. Volvió a casarse en 1977, con la actriz
Shera Danese
. En junio de 2009 quedó bajo la custodia de
Danese
después de que un juez de Los Ángeles le declarara incapacitado por demencia senil.
Peter Falk falleció el 24 de junio de 2011 en
Beverly Hills
(Los Ángeles, California) a los 83 años.
Premios
Óscar
1960 — Mejor actor de reparto — El sindicato del crimen — Candidato
1961 — Mejor actor de reparto — Un gángster para un milagro — Candidato
Premios Emmy
1960 — Emmy al mejor actor de reparto — "Cold Turkey" — "The Law and Mr. Jones" — Candidato
1961 — Emmy al mejor actor principal de drama — "The Price of Tomatoes" — "The Dick Powell Show" — Ganador
1972 — Emmy al mejor actor principal de drama — "The NBC Mystery Movie" — "Columbo" — Ganador
1973 — Emmy al mejor actor principal de drama — "The NBC Mystery Movie" — "Columbo" — Candidato
1974 — Emmy al mejor actor principal de drama — "The NBC Mystery Movie" — "Columbo" — Candidato
1975 — Emmy al mejor actor principal de drama — "The NBC Mystery Movie" — "Columbo" — Ganador
1976 — Emmy al mejor actor principal de drama — "The NBC Mystery Movie" — "Columbo" — Ganador
1977 — Emmy al mejor actor principal de drama — "The NBC Mystery Movie" — "Columbo" — Candidato
1978 — Emmy al mejor actor principal de drama — "The NBC Mystery Movie" — "Columbo" — Candidato
1990 — Emmy al mejor actor principal de drama — "Columbo: Agenda for Murder" — TV Film — Ganador
1991 — Emmy al mejor actor principal de drama — "Columbo: Columbo and the Murder of a Rock Star" — TV Film — Candidato
1994 — Emmy al mejor actor principal de drama — "Columbo: It's All in the Game" — TV Film — Candidato
Globos de Oro
1972 — Globo de Oro al mejor actor de televisión (Drama) — "The NBC Mystery Movie" — "Columbo" — Candidato
1973 — Globo de Oro al mejor actor de televisión (Drama) — "The NBC Mystery Movie" — "Columbo" — Ganador
1974 — Globo de Oro al mejor actor de televisión (Drama) — "The NBC Mystery Movie" — "Columbo" — Candidato
1975 — Globo de Oro al mejor actor de televisión (Drama) — "The NBC Mystery Movie" — "Columbo" — Candidato
1976 — Globo de Oro al mejor actor de televisión (Drama) — "The NBC Mystery Movie" — "Columbo" — Candidato
1978 — Globo de Oro al mejor actor de televisión (Drama) — "The NBC Mystery Movie" — "Columbo" — Candidato
1991 — Globo de Oro al mejor actor de televisión (Drama) — "The NBC Mystery Movie" — "Columbo" — Candidato
1992 — Globo de Oro al mejor actor de telefilm — Columbo: Columbo and the Murder of a Rock Star — TV Film — Candidato
1994 — Globo de Oro al mejor actor de telefilm — Columbo: It's All in the Game — TV Film — Candidato
Filmografía
1960 - El sindicato del crimen (Murder, Inc.)
1961 - Un gángster para un milagro (Pocketful of Miracles)
1964 - Cuatro gángsters de Chicago (Robin and the 7 Hoods)
1965 - La carrera del siglo (The Race)
1966 - Penelope
1968 - La batalla de Anzio
1969 - La fortaleza (Castle Keep)
1970 - A Step Out of Line
1970 - Maridos (Husbands)
1974 - Una mujer bajo la influencia (A Woman Under the Influence)
1975 - Un cadáver a los postres (Murder by Death)
1975 - Mikey and Nicky (Mikey and Nicky)
1976 - Griffin & Phoenix: A love story (Griffin)
1979 - Los suegros (The In-Laws)
1979 - El mayor robo del siglo (The Brink's Job)
1985 - Un hombre en apuros (Big Trouble)
1987 - Cielo sobre Berlín (Der Himmel über Berlin)
1987 - La princesa prometida (The Princess Bride)
1987 - Happy New Year (Happy New Year)
1988 - El misterio de la pirámide de oro (Vibes)
1989 - Mi rebelde Cookie (Cookie)
1990 - Realidad y ficción (Tune in Tomorrow...)
1990 - Un espíritu nos persigue (In the Spirit)
1993 - Tan lejos, tan cerca (In weiter Ferne, so nah!)
1995 - Compañeros de habitación (Roommates)
1995 - La pareja chiflada (The Sunshine Boys)
1997 - Acoso sin fin (Pronto)
1998 - Tiempo de venganza (Vig)
2000 - Una tormenta de verano (A Storm in Summer)
2001 - Corky Romano (Corky Romano)
2001 - El mundo perdido (The Lost World)
2001 - Un lugar sin Navidad (A Town Without Christmas)
2002 - Undisputed de Walter Hill
2003 - El naufragio del Días Salvajes (Wilder Days)
2004 - El espantatiburones (voz) (Shark Tale)
2007 - Next
Televisión
1968 - Prescription: Murder
1971 - Ransom for a Dead Man
1971 - Homicidio de acuerdo con el libro (Columbo: Murder by the Book)
1971 - Colombo: Una mujer espera. (Columbo: Lady in Waiting)
1971 - Marco para un asesinato (Columbo: Suitable for Framing)
1973 - Colombo: Una puntada en el crimen. (Columbo: A Stitch in Crime)
1973 - Candidato al crimen (Columbo: Candidate for Crime)
1973 - La partida más peligrosa (Columbo: The Most Dangerous Match)
1973 - Doble shock (Columbo: Double Shock)
1974 - Mente mutilada (Columbo: Mind Over Mayhem)
1975 - Playback (Columbo: Playback)
1976 - Fuera maldita mancha (Columbo: Old Fashioned Murder)
1976 - Asesinato a la antigua usanza. (Columbo: Old Fashioned Murder)
1977 - ¿A que no me coges?. (Columbo: Try and Catch Me)
1995 - Extraños compañeros de cama (Columbo: Strange Bedfellows)
2000 - Asesinato con demasiadas notas (Columbo: Murder with Too Many Notes)
*buscabiografias.com
---

 Artículo: Biografía de Peter Falk 
 Autor: Víctor Moreno, María E. Ramírez, Cristian de la Oliva, Estrella Moreno y otros
 Website: Buscabiografias.com
 URL: https://www.buscabiografias.com/biografia/verDetalle/4695/Peter%20Falk 
 Publicación: 2007/06/30 
 -dateModified- Última actualización: 2023/02/10
 
---
---