Jesse Plemons
(1988/04/02 - Unknown)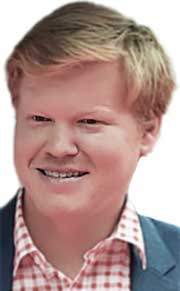 Actor estadounidense
Conocido, entre otras, por su interpretación de Ed Blumquist en la serie Fargo.
Películas: The Irishman, The Post...
Series: Breaking Bad, Friday Night Lights...
Padres: Jim Bob Plemons y Lisa Beth Cason
Pareja: Kirsten Dunst
Hijos: Ennis Howard Plemons, James Robert Plemons
Nombre: Jesse Lon Plemons
Altura: 1,78 m
Jesse Plemons
nació el 2 de abril de 1988 en
Dallas
, Texas, Estados Unidos.
Familia
Hijo de Jim Bob Plemons y Lisa Beth Cason. Hermano de Jill y tataranieto de Stephen F. Austin, conocido como el «
Padre de Texas
».
Tiene ascendencia inglesa, escocesa-irlandesa / norirlandesa y suizo-alemana.
Estudios
En 2007 se graduó de secundaria en el Texas Tech University Independent School District, un programa de educación a distancia. Después asistió a la Mart High School hasta que a causa de sutrabajo tuvo que cambiarse al programa on-line.
Actor
Comenzó su carrera a los tres años en un comercial de Coca-Cola. A los ocho empezó a realizar audiciones en Los Ángeles consiguiendo pequeños papeles.
Televisión
De 2000 a 2006 actuó en las series en
Walker, Texas Ranger
,
Sabrina, the Teenage Witch
,
Judging Amy
,
The Lyon's Den
,
CSI: Crime Scene Investigation
y
Grey's Anatomy.

En 2006 se unió al elenco de
Friday Night Lights
de NBC.
Breaking Bad
Entre 2012 y 2013, interpretó al psicópata Todd Alquist durante la última temporada de
Breaking Bad
. Su personaje fue recurrente en la temporada 5A y pasó a ser regular en la temporada 5B.
Fargo
En 2015, coprotagonizó la segunda temporada de
Fargo
, en el papel del carnicero a Ed Blumquist, esposo de Peggy Blumquist, interpretado por
Kirsten Dunst
.
Por su actuación recibió una nominación al premio
Primetime Emmy
al mejor Actor de Reparto en una miniserie o película.
Posteriormente apareció como Angus en la primera temporada de
No Activity
(2017), repitió su papel de Todd Alquist en la película de Netflix
El Camino: A Breaking Bad Movie
(2019)
y
protagonizó la serie de crímenes
Love and Death
, estrenada en HBO Maxen 2022.
Películas
Debutó en el cine en el largometraje
Varsity Blues
(1999), al que seguirían
All the Pretty Horses
(2000),
Children on their Birthdays
(2002),
Like Mike
(2002) y
When Zachary Beaver Came to Town
(2003).
Después tuvo un papel secundario en el drama
The Master
(2012), interpretó al mafioso Kevin Weeks en
Black Mass
(2015), protagonizada por
Johnny Depp
y apareció en los filmes
The Program de
Stephen Frears
, y
Bridge of Spies
dirigida por
Steven Spielberg
.
En 2016, protagonizó la película
Other People
. Un año después formó parte del reparto de las cintas
Doug Liman American Made
,
Hostiles
y
The Post
.
Durante 2018, trabajó en la comedia
Game Night
y en la película biográfica
Vice
.
En 2019 interpretó un papel secundario en el largometraje de
Martin Scorsese The Irishman
, estrenado en el Festival de Cine de Nueva York .
En 2020 obtuvo una nominación al premio
Gotham Independent Film Award
como Mejor Actor por su actuación en el drama psicológico
I'm Thinking of Ending Things
.
«Mi objetivo es crecer, divertirme y trabajar con personas que me inspiran».

Jesse Plemons
Durante 2021 actuó en la aclamada
Judas and the Black Messiah
, sobre el activista de derechos civiles Fred Hampton, en la película de Disney
Jungle Cruise
, en
The Power of the Dog
, escrita y dirigida por
Jane Campion
y en el filme de terror
Antlers
.
También en 2021 se anunció a Plemons como uno de los protagonistas del filme Martin Scorsese,
Killers of the Flower Moon
, en el que trabajara con
Brendan Fraser
,
Leonardo DiCaprio
y
Robert De Niro
, además de protagonizar la película
Windfall
.
En 2022, protagonizó el thriller
Windfall
, que también fue su primera película como productor.
Pareja e hijos
En 2016 comenzó una relación con su coprotagonista de Fargo,
Kirsten Dunst
. Se comprometieron en 2017. Un año después fueron padres de Ennis Howard Plemons. Su segundo hijo, James Robert, nació en 2021. Ambos fueron nominados en 2022 a los Premios de la Academia por sus papeles en
The Power of the Dog
.
Plemons y Dunst se casaron en julio de 2022.
«No soy competitivo con otros actores. Soy competitivo conmigo mismo».

Jesse Plemons
Sabías que...
Además de actuar, canta en la banda de folk rock alternativo Cowboy and Indian.
Filmografía
Cine
1998 Finding North
1999 Varsity Blues
2000 All the Pretty Horses
2002 Children on Their Birthdays
2002 Like Mike
2003 When Zachary Beaver
2003 The Failures
2008 The Flyboys
2009 Observe and Report
2009 Shrink
2010 Happiness Runs
2010 Meeting Spencer
2011 Paul
2012 The Master
2012 Battleship
2014 The Homesman
2014 Flutter
2015 Black Mass
2015 The Program
2015 Bridge of Spies
2016 Other People
2017 The Discovery
2017 American Made
2017 Hostiles
2017 The Post
2018 Game Night
2018 Vice
2019 The Irishman
2019 El Camino: A Breaking Bad Movie
2020 Thinking of Ending Things
2021 Judas and the Black Messiah
2021 Jungle Cruise
2021 The Power of the Dog
2021 Antlers
2022 Killers of the Flower Moon
2022 Windfall
2023 Killers of the Flower Moon
And

Televisión
2000 Walker, Texas Ranger
2001 The Guardian
2001 Sabrina, the Teenage Witch
2003 The Lyon's Den
2003 Judging Amy
2004 Huff
2004 CSI: Crime Scene Investigation
2006 Grey's Anatomy
2006 NCIS
2006–2011 Friday Night Lights
2008 Fear
2009 Cold Case
2011 Childrens Hospital
2012 Bent
2012–2013 Breaking Bad
2014, 2016, 2018 Drunk History
2014 Olive Kitteridge
2015 Fargo
2017 No Activity
2017 Black Mirror
2023 Love and Death
*buscabiografias.com
---

 Artículo: Biografía de Jesse Plemons 
 Autor: Víctor Moreno, María E. Ramírez, Cristian de la Oliva, Estrella Moreno y otros
 Website: Buscabiografias.com
 URL: https://www.buscabiografias.com/biografia/verDetalle/11492/Jesse%20Plemons 
 Publicación: 2021/10/15 
 Última actualización: 2023/07/19 
---
---