Josh Brolin
(1968/02/02 - Unknown)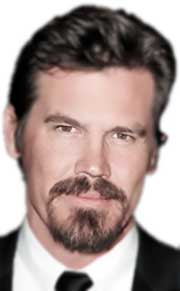 Actor estadounidense
Popular, entre otros, por su papel de Llewellyn Moss en No Country for Old Men
Películas: Hollow Man, No Country for Old Men...
Padres: James Brolin y Jane Cameron
Cónyuges: Alice Adair (m. 1988–1994), Diane Lane (m. 2004–2013), Kathryn Boyd Brolin (m. 2016)
Hijos: Trevor, Eden, Westlyn Reign, Chapel Grace
Nombre: Josh James Brolin
Josh Brolin
nació el 2 de febrero de 1968 en
Santa Mónica
, California, Estados Unidos.
Padres
Hijo del actor James Brolin y de Jane Cameron, activista de la vida silvestre.
Con ascendencia suizo-alemana, inglesa, escocesa e irlandesa.
Se crio en un rancho en Templeton, California. Sus progenitores se divorciaron en 1984.
Su madre falleció en 1995 en un accidente automovilístico.
En 1998, su padre se casó con la cantante y actriz
Barbra Streisand
.
Estudios
Tras graduarse en la escuela secundaria, se trasladó a Los Ángeles para asistir a las clases de actuación de Stella Adler.
Actor
Debutó en el cine en 1985 con el largometraje
Los Goonies
, al que seguirían
Thrashin
(1986),
The Road Killers
(1994),
Bed of Roses
(1996),
Flirting With Disaster
(1996) y
Nightwatch
(1997),
Its the Rage
(1999).
Películas
Posteriormente apareció en
Hollow Man
(2000),
Melinda and Melinda
(2005),
The Dead Girl
(2006),
Grindhouse
(2007), escrita y dirigida por
Robert Rodríguez
y
Quentin Tarantino
,
American Gangstar
(2007),
No Country for Old Men
(2007), dirigida por los hermanos
Coen
,
W.
(2008), de
Oliver Stone
en la que interpretó a
George W. Bush
,
Milk
(2008),
True Grit
(2010),
Men in Black 3
(2012),
Gangster Squad
(2013), S
in City: A Dame to Kill For
(2014),
Inherent Vice
( 2014)
, Hail, Caesar
! (2016), protagonizada por
Scarlett Johansson
y
George Clooney
,
Only the Brave
(2017),
Dune
(2021) o
Dune: Part Two
,( 2023), entre otras.
«He vivido entre querer ser actor, pensar que lo era y, al fin, conseguirlo».

Josh Brolin
Televisión
Apareció por primera vez en televisión con la serie
Private Eye
(1987). Continuó con otras como
21 Jump Street
,
The Young Riders
,
Mister Sterling
(2003),
Into the West
(2005) y
Outer Range
(2022), entre otras, y los telefilmes
Gang in Blue
(1997) o
Picnic
(2000).
Parejas e hijos
De 1988 a 1992 estuvo casado con la actriz Alice Adair. Su hijo Trevor nació en 1988 y su hija Eden en 1994, cuando ya estaban divorciados.
Relacionado con la también actriz
Minnie Driver
durante varios años, se comprometieron en abril de 2001 y se separaron seis meses después.
Se casó con la actriz
Diane Lane
el 15 de agosto de 2004. Se divorciaron en 2013. En ese mismo año comenzó una relación con su ex asistente y modelo Kathryn Boyd. Se comprometieron en marzo de 2015 y se casaron el 24 de septiembre de 2016. Fueron padres de Westlyn Reign nacida en 2018 y Chapel Grace nacida en 2020.
Filmografía
Cine
1985 The Goonies
1986 Thrashin
1989 Finish Line
1994 The Road Killers
1996 Bed of Roses
1996 Flirting with Disaster
1997 Mimic
1997 My Brother's War
1997 Nightwatch
1999 The Mod Squad
1999 Best Laid Plans
1999 It's the Rage
2000 Hollow Man
2000 Slow Burn
2002 Coastlines
2003 Milwaukee, Minnesota
2004 Melinda and Melinda
2005 Into the Blue
2006 The Dead Girl
2007 Grindhouse Segment: Planet Terror
2007 In the Valley of Elah
2007 No Country for Old Men
2007 To Each His Own Cinema
2007 American Gangster
2008 W.
2008 Milk
2009 Women in Trouble
2009 The People Speak
2010 Jonah Hex
2010 The Tillman Story/ Voz
2010 You Will Meet a Tall Dark Stranger
2010 Wall Street: Money Never Sleeps Bretton
2010 True Grit
2012 Men in Black 3
2013 Gangster Squad
2013 Oldboy
2013 Labor Day
2014 Guardians of the Galaxy
2014 Sin City: A Dame to Kill For
2014 Inherent Vice
2015 Avengers: Age of Ultron Thanos
2015 Sicario
2015 Everest
2016 Hail, Caesar!
2017 Only the Brave
2018 The Legacy of a Whitetail Deer Hunter
2018 Avengers: Infinity War
2018 Deadpool 2
2018 Sicario: Day of the Soldado
2019 Avengers: Endgame
2021 Flag Day
2021 Dune
2023 Dune: Part Two
Brothers

Televisión
1986 Highway to Heaven
1987–1988 Private Eye
1987 21 Jump Street
1989 Finish Line Glenn/ Telefilme
1989–1992 The Young Riders
1994 Winnetka Road
1995 The Outer Limits
1997 Gang in Blue/ Telefilme
2000 Picnic/ Telefilme
2003 Mister Sterling
2005 Into the West
2008–2012 Saturday Night Live Himself
2012 Mankind: The Story of All of Us
2021 What If...? Thanos/ Voz
2022 Outer Range
*buscabiografias.com
---

 Artículo: Biografía de Josh Brolin 
 Autor: Víctor Moreno, María E. Ramírez, Cristian de la Oliva, Estrella Moreno y otros
 Website: Buscabiografias.com
 URL: https://www.buscabiografias.com/biografia/verDetalle/11996/Josh%20Brolin 
 Publicación: 2022/09/28 
 Última actualización: 2023/07/19 
---
---